Industrial processing and innovation department
The eRcane Industrial Processing and Innovations department, founded in 1985, is focused on optimizing sugar recovery processes. A team of engineers and technicians is involved at all levels of the process and conducts research and development programmes for the sugar sector.
The Emile Hugot laboratory—the main tool at its disposal—has all the analytical equipment necessary for analysing sugar industry products. The laboratory, which was granted ISO 9001 certification in 2019, serves as a reference for the two sugar mills in Réunion, while working in collaboration with the International Commission for Uniform Methods of Sugar Analysis (ICUMSA).
External sugar complexes also benefit from the department's expertise via customized analyses, training and expert missions (Africa, West Indies, Brazil, etc.).
Laboratory services
The Emile Hugot laboratory, in homage to one of the founding fathers of the Réunion sugar industry, is pivotal to sugar processing operations, with its panel of around 40 analyses tailored to industrial sugar processing products.
We routinely analyse samples from the island's two sugar mills weekly during the sugar milling season. The results are matched against those obtained by the sugar mill laboratories, but more in-depth analyses are also conducted using specific equipment (chromatograms, spectrometers, etc.).
We certify the validity of our results by participating in two inter-calibration networks, one managed by our laboratory and the other organized at the European level by the LGC Sugar Proficiency Testing Scheme (SUPS) recommended by ICUMSA.
The ISO 9001 certification issued by AFNOR in 2019 reflects our commitment to our customers and the rigorous quality of our work.
Improving industrial performance is a major priority for sugar mills. This approach is essential to boost productivity in the sector: maximizing sugar recovery, optimizing energy consumption, etc.
The department also helps sugar mills improve their production tools. The eRcane team carries out sampling and analyses on various target products to obtain specific measurements: impact of cane quality, measurement of mill extraction rates, factory thermal performance, exhaustion in sugar crystallization stations, research into the causes of sugar loss, etc. The resulting data are interpreted and recommendations are drawn up in collaboration with the sugar mill technical teams.
Training sessions are regularly organized by eRcane for sugar mill staff on different stages of the sugar processing chain (extraction, clarification, evaporation, crystallization) or to meet specific requests.
The Industrial Processes and Innovations Department conducts various R&D programmes, which are drivers of innovation in the sector. These programmes concern the adaptation or development of analytical methods tailored to all sugarcane products and the creation of new tools.
Another innovation aspect featured in the department is the search for new market outlets for sugarcane alongside current ones. Sugarcane is an ideal crop for the biorefinery process. In addition to producing sugar (a food outlet), it also generates electricity via bagasse, organic amendments with filter cake, and alcohol with molasses. Hence, just like crude oil which is broken down into many products (fuel, plastics, chemicals, etc.), biorefineries use processes to separate the various plant components while offering ways to tap their full potential.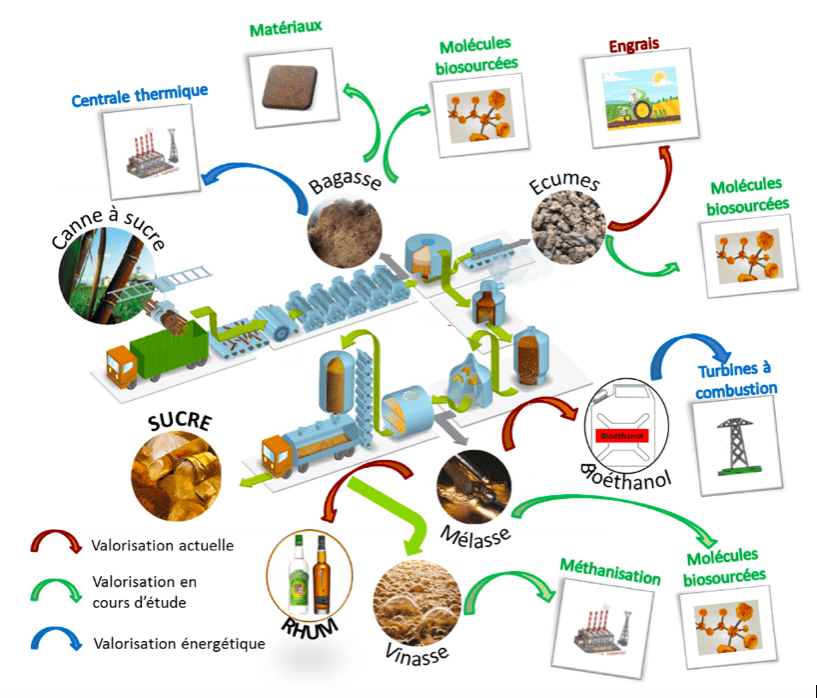 A sugarcane biorefinery. Current products in red, studied products in green.